ELECTRIC PRESS KIT
TORSIONS
Blu_crush rec.-2011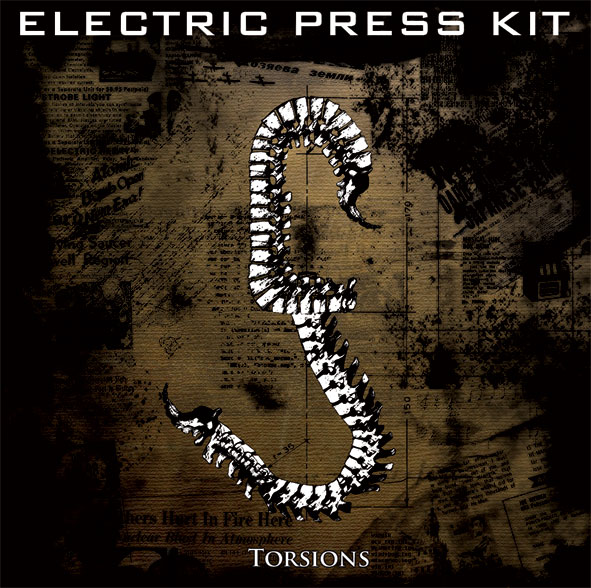 >>
ELECTRIC PRESS KIT
groupe post punk originaire de Paris vous propose son second album paru sur le nouveau label indé
Blu-crush rec.
L'obscurité et la lumière…
" …Electric Press Kit réussit avec "Torsions" un disque touchant, parfois âpre mais éminemment personnel."
Silver Edward - Trinity webzine
"'Torsions' goes off on a dancey kick, with fragrant guitar, pale vocals and a succinct close, followed by a supremely beautiful ghostly bonus song with more of the subtle guitar and tinny drums. It's a crafty romp, this disc and easily their best work."
Mick Mercer - Mick Mercer Review
"...une musique directe qui n'accorde pas de place aux facilités mélodiques"
Maxymox - Voxempirea.com
"La parution très attendue du dernier disque d'ELECTRIC PRESS KIT intitulé Torsions (Blu_Crush Records) marque une étape déterminante pour ce groupe prometteur!"
M.-L Questin - La Salamandre, n°15, p.77.
"ELECTRIC PRESS KIT (...) s'affirme aujourd'hui comme un des meilleurs espoirs du post-punk français en activité. EPK s'offre même un hit potentiel carrément punk:"Power of Hate"! "
Y.Blay - Elegy, n°69, p.6.
"Au final, un album moins hermétique que la plupart des sorties dark, sans concession à un éventuel underground, facile d'accès mais doté d'imparables mélodies et se révélant de plus en plus intéressant au fil des écoutes. "
Revco - AXESSCODE
"Electric Press kit s'affirme enfin...."
E.Hennequin - Obskure, n°4, p.94
"Pour ce pari temporel réussi et pour la qualité de ces compositions abrasives et habitées, j'ai envie de dire bravo, et vivement la suite…"
Lilith 79 - Les acteurs de l'ombre
TRACKLISTING :
01. THIS NIGHT
02. BORN IN ROSWELL
03. ALWAYS ALIENS
04. VENOM
05. TOUT CE QUI DÉTRUIT
06. COLD IN APRIL
07. POWER OF HATE
08. SAYONARA BABY
09. DIE
10. TORSIONS
Cd - Livret 8 pages
>>
Bonus audio inédit offert en libre téléchargement:
Pour fêter la sortie du nouvel album Electric Press Kit offre le morceau inédit "La Rivière" extrait des sessions d'enregistrement de "Torsions". Cliquez sur le lien suivant et bonne écoute !
LA RIVIERE http://epkofficial.free.fr/music/LA-RIVIERE.mp3
>>
3 titres en
écoute
ici:
http://www.podsnack.com/playlists/8bf7022f20f31f33297974671a552103
>>
10€ port compris
Commande par mail :
blu_crushrec@aliceadsl.fr
ou par voie postale :
Blu_crush Records
153 allée de Montfermeil
93390 Clichy Sous Bois
France
>> [Et dispo ici:
-Season of Myst
http://e-shop.season-of-mist.com/fr/items/electric-press-kit/torsions/cd/27163
-Infrastition
http://www.infrastition.com/index.php?page=shop.product_details&flypage=flypage_images.tpl&product_id=126&category_id=35&option=com_virtuemart&Itemid=2&lang=fr
-Manic depression
http://www.manicdepressionrecords.com/catalog.php?lg=fr&session=9ecee0f261befd8d9c9f98d523a76141
-Souffle continu
http://www.soufflecontinu.com/index.php?f=detail&ean=3770001010021&search=electric+press+kit
-Gibert Joseph
http://www.gibertjoseph.com/torsions-3258079.html
-Fnac
http://musique.fnac.com/a3614063/Electric-Press-Kit-Torsions-CD-album
http://www.epk-music.com
http://epk.chez-alice.fr/accueil.html
https://www.facebook.com/pages/Electric-Press-Kit/161825120506472
epk@aliceadsl.fr
blu_crushrec@aliceadsl.fr
Si vous voulez commander un exemplaire vous pouvez également m'adresser un
PM
ici...

:)